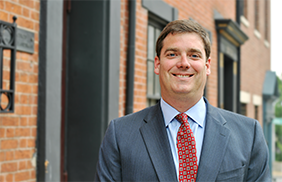 Craig K. Ronald
Partner
Craig Ronald serves as a Partner at The Law Office of Landsman and Ronald, LLC. An esteemed trial attorney with extensive experience in insurance and personal injury matters, Mr. Ronald often handles very difficult cases in an increasingly complex litigation landscape. With Bar admissions to the District and Circuit Courts of Maryland, the United States District Court for the District of Maryland, the District and Superior Courts for the District of Columbia and the United States Court of Appeals for the Fourth Circuit, Mr. Ronald has substantial trial experience spanning over 20 years. His skills in negotiation, litigation and effective case management repeatedly garner successful results for clients.
A life-long Towson resident, Mr. Ronald developed a dedication to the community through athletics. Growing up, he was a decorated multi-sport athlete at Loyola Blakefield in Towson before going on to become a two-time All American lacrosse player at the University of Virginia (B.A., 1994), where he served as a captain of his team during both his third and fourth years. He was inducted to the Hall of Fame at Loyola Blakefield in 2012 for his accomplishments on the lacrosse and football fields.
Upon graduating from the University of Baltimore School of Law (J.D., 1997), Mr. Ronald transferred his competitive mentality to a successful law practice centered around litigation. Clients and colleagues describe him as a very knowledgeable and effective attorney who works tirelessly, with attention to detail, for all of his clients.
Outside of work, Mr. Ronald enjoys spending time with family, especially now visiting his daughter as she attends The College of Charleston.  In addition, Mr. Ronald was the former President of the Loyola Blakefield Alumni Association as well as Co-President of the Maryvale Parents' Association, along with his wife, Jennifer.
PROFESSIONAL AFFILIATIONS
Baltimore City Bar Association
Baltimore County Bar Association
American Bar Association
EDUCATION
University of Virginia (1994), B.A. Sociology
University of Baltimore School of Law (1997), J.D.
BAR ADMISSIONS
District Courts of Maryland
Circuit Courts of Maryland
United States District Court for the District of Maryland
Superior Court for the District of Columbia
United States District Court for the District of Columbia
United States Court of Appeals for the Fourth Circuit